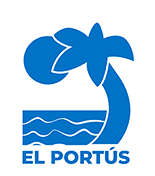 Activities
Throughout the year our clients can take part in a varied programme of activities.
* Due to the situation produced by the Coronavirus, some of our services may be affected. At Reception we will inform you.
In the summer, staff with the full-time responsibility for organising activities, produce weekly bulletins setting out proposals for adults and for children. Sports Championships, Gymkhanas, competitions of all kinds, excursions, fancy dress parades, etc... We place special emphasis on providing for the children, because we well know how much they enjoy these activities.

In the rest of the year, activities are directed more towards adults. Organised walks, cultural and gastronomic excursions, dinner dances, sport competitions - above all a Boules Tournament - the favourite sport in El Portus in winter, musical evenings, yoga, aerobics, aquaerobics in the covered pool, etc.
The Restaurant is used at certain times of the day as the El Portus Social Club. There you can enjoy board games, dancing classes, a library, etc... And we must not forget the Spanish for foreigners classes; Many of our regular clients have learned Spanish with us.
At Reception you can find out about any kind of activity you might wish to carry out away from the campsite: golf, horse, riding, etc.
Those of you who enjoy

fishing

with a rod and line have, right here in El Portus, great opportunities: dorada, grouper, red mullet... a wide and varied choice of fish to hope for.

For those who like more adventurous sports there is

The multi-adventure Club Portus-Kayak offers sea kayaking and adventure activities. We intend to give you an active knowledge of a natural environment that we consider a jewel in the Mediterranean. Visit caves with lakes and marine siphons and enjoy extraordinary landscapes that will not leave you indifferent.
It is no coincidence that species such as the Peregrine Falcon, the Perdicera Eagle and the Royal Owl continue to fly in our mountains. Our coasts, in addition, are visited by dolphins, pilot whales, moonfish ... We intend that with our activities the most demanding sportsmen enjoy the people who do this type of activities for the first time. We organize and design from half-day activities to combined one-week activities, both for groups and individuals.
You can combine kayaking with hiking, climbing, snorkeling ... For a more detailed description of our activities visit the website www.portuskayak.com.
If you have not yet visited the section Facilities, you should do so now.
Camping Naturista El Portús - 30393-Cartagena (España) - Tel.: +34 968 55 30 52 - Fax: +34 968 55 30 53